Dina Rončević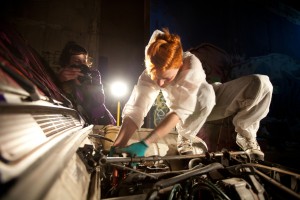 I am an artist that made a professional retraining for a car mechanic. My work is based on research about how women feel about their bodies, do they know how to use it or enjoy it, how knowledge is distributed and what are the alternative ways of learning….
There is a car ready to be deconstructed, and we have a tool box; allow me to lead the way!
Invitation politix: Women only workshop/performance – Participants in car deconstruction should be people who never had experience of working with tools or have any knowledge about cars and mechanics. Anyone who feels like a woman is welcome to participate. We will be strong, we´ll have to use our bodies as a tool so we could deal with hard´n heavy parts of the car, so each participant should have at least a bit of interest for that kind of work. That tiny bit  of interest will develop into a greasy fairy tale once we start taking parts off, one by one.