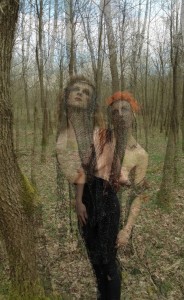 Mad Kate & TUSK
HYENAZ are Mad Kate & TUSK—bottom-feeders on the surface of a planet eating itself; exquisite creatures whose synthwave soundscapes spring from the surplus and detritus of civilization's cultural and consumerist material.
The beats and basslines lift from early house, IDM and R&B; the vocals from soul, blues and prog-rock; the lyrics are punk poetry, cutups — the calls of a cybernetic siren. Synthesizers are built from discarded scraps of metal and 90s nostalgia. Their performance, their visual art and their texts cull from the discarded fabrics of their surroundings, felt and reinterpreted through their bodies.
HYENAZ are the future, a golden age that exists on the twilight of now. HYENAZ are one, defiled and immaculate, their androgynous flesh quivering on the thin edge between the digital and the divine.
Tracks can be listened to and downloaded for free at:
hyenaz.com
soundcloud.com/hyenazhyenaz
Select video links from Mad Kate (alfabus.us):
Supper Club Amsterdam (http://www.youtube.com/watch?v=ERKjUL21VQo&feature=related)
Lucas Carreiri Gallery Berlin (http://www.youtube.com/watch?v=cNGHcE7SX2A)
Saturator Warsaw (http://www.youtube.com/watch?v=w1dyfD-b4xg&feature=related)
Select video links from TUSK (tusklives.com):
TUSK LIVE (www.youtube.com/watch?v=4FcrbZ061zI)
New Window (Directed by Emilia Kurylowicz) (www.youtube.com/watch?v=BF6oz-1UcPk)
 Mad Kate (Bonapatre, Mad Katelthe Tide) is a multifaceted performance artist who seamlessly combines her skills in singing, dancing and writing. itegratig elements of punk iconography, blutoh practice, prose and creative nonfiction, Afro-Cuban dance, raw vocals and visionary costume. Mad Kate has performed around Europe, Russia ante the United States- pioneering a unique style that is outspokenly feminist, genderqueer, and honest.
 TUSK (TUSK, Aurora Kiss) is a producer, singer and dancer. With a background firmly rooted in social and critical theory as well as philosophy, TUSK embraces the Diocletian impossibility of embedding crucial economy, social and epistemological questions within popular music forms.In her solo performances  TUSK toys with questions of gender, sexuality, cybernetics and apocalypse.Dest described as synth-wave meets sic-fi, TUSK is hailed as visionary by fans.
Invitation Politix: open to all